Side Menu Ends, main content for this page begins
Back to Side Menu (includes search)
59 AP Scholars Announced!
Posted on: November 22, 2022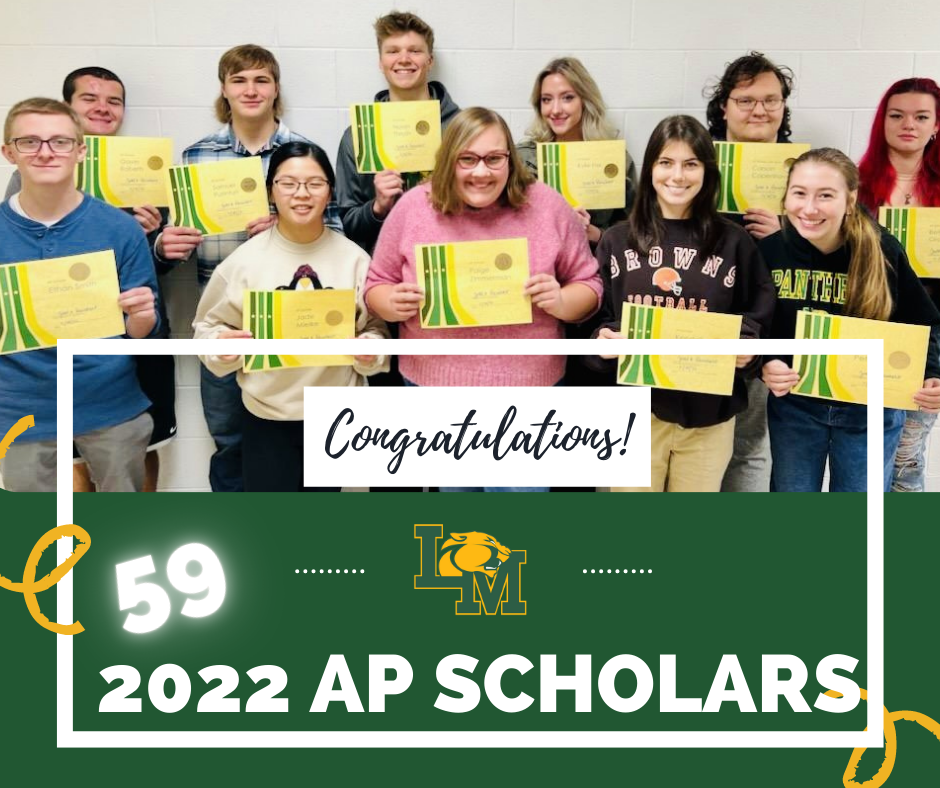 Little Miami is proud to report that 59 LMHS students earned the distinction of AP Scholars as a result of their hard work on last year's AP exams. While 48 of those students graduated in the class of 2022, there are 11 current Seniors sharing in the honor! Please see below for a full list of honorees and their distinctions. Congratulations to all!
| | |
| --- | --- |
| Student Name | Scholar Award |
| Copenhaver; Carson | AP Scholar with Honor |
| Fox; Kylie L. | AP Scholar |
| Gentry; Kendall M. | AP Scholar |
| Gray; Bethany F. | AP Scholar |
| Mielke; Jade H. | AP Scholar |
| Pettet; Logan K. | AP Scholar |
| Purintun; Samuel H. | AP Scholar |
| Roberts; Gavin D. | AP Scholar |
| Smith; Ethan Smith C. | AP Scholar |
| Thrush; Nolan Z. | AP Scholar |
| Zimmerman; Paige H. | AP Scholar |
| Angel; Madelyn C. | AP Scholar with Honor |
| Appel; Brianna M. | AP Scholar with Distinction |
| Appel; Nicole A. | AP Scholar with Distinction |
| Baldwin; Dakota T. | AP Scholar with Distinction |
| Barradas-Gomez; Princesa | AP Scholar with Honor |
| Briscoe; Mara D. | AP Scholar |
| Bullock; Brooke A. | AP Scholar with Honor |
| Carr; Benjamin P. | AP Scholar with Distinction |
| Carrillo; Noah C. | AP Scholar with Honor |
| Cline; Justine M. | AP Scholar with Honor |
| Collopy; Gracelyn E. | AP Scholar with Distinction |
| Dattilo; Caleb G. | AP Scholar with Distinction |
| Erman; Nadia M. | AP Scholar |
| Falk; Isaac A. | AP Scholar |
| Harris; Nicholas M. | AP Scholar with Honor |
| Hartzell; Ethan W. | AP Scholar |
| Heckscher; Kathryn R. | AP Scholar with Distinction |
| Highfield; Madelyn C. | AP Scholar with Distinction |
| Holt; Lauren M. | AP Scholar |
| Holtkamp; Kevin D. | AP Scholar |
| Houser; Ryan | AP Scholar with Distinction |
| Huff; Jenna L. | AP Scholar |
| Kaiser; Kaylee J. | AP Scholar |
| Kirkendall; Abby G. | AP Scholar with Distinction |
| Kivircik; Tyler | AP Scholar with Distinction |
| Lindsey; Marina R. | AP Scholar with Distinction |
| Lovins; Kristen T. | AP Scholar with Distinction |
| McConaghy; Riley L. | AP Scholar with Distinction |
| Metz; Sarah F. | AP Scholar |
| Mitchell; Alexander M. | AP Scholar with Distinction |
| Nicora; Haleigh M. | AP Scholar |
| Pucko; Cecelia | AP Scholar with Distinction |
| Reis; Piper C. | AP Scholar with Honor |
| Rudkin; Emma C. | AP Scholar with Distinction |
| Saunders; Leah D. | AP Scholar with Honor |
| Schneider; Lucy L. | AP Scholar with Distinction |
| Spencer; Sarah N. | AP Scholar with Distinction |
| Tackett; Tyler A. | AP Scholar |
| Tayidi; Nilli | AP Scholar with Honor |
| Tenbusch; Julia E. | AP Scholar with Distinction |
| Tubbs; Elizabeth J. | AP Scholar |
| Volz; Lilianne E. | AP Scholar with Distinction |
| Warburton; Chloe G. | AP Scholar with Honor |
| Wichert; Cameryn P. | AP Scholar with Honor |
| Willard; Virginia L. | AP Scholar with Honor |
| Yeung; Amanda M. | AP Scholar with Distinction |
| Yeung; Emily M. | AP Scholar with Distinction |
| Zegarski; William | AP Scholar |