Side Menu Ends, main content for this page begins
Back to Side Menu (includes search)
Four LM Seniors are National Merit Scholar Semifinalists
Posted on: September 22, 2021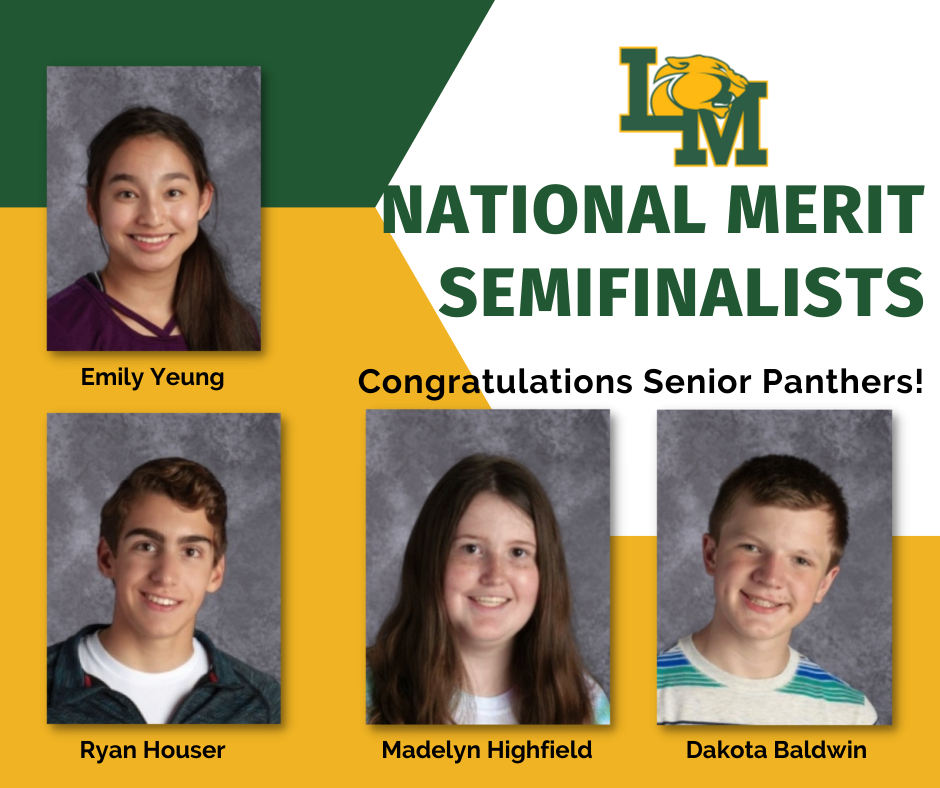 Congratulations to four incredible LMHS Seniors- Dakota Baldwin, Madelyn Highfield, Ryan Houser, and Emily Yeung - who are Semifinalists in the 2022 National Merit Scholarship Program. These academically talented LM Panthers will have an opportunity to continue in the competition for 7,500 National Merit Scholarships worth nearly $30 million that will be offered next spring.
The 2020 Preliminary SAT/National Merit Scholarship Qualifying Test (PSAT/NMSQT) served as an initial screen of entrants to the 2022 National Merit Scholarship Program. The Selection Index scores of students who met program participation requirements were used to designate a pool of about 16,000 semifinalists on a state allocation basis. Semifinalists are the highest scorers in each of the 50 states and represent less than one percent of each state's high school seniors.
To be considered for a Merit Scholarship award, Semifinalists must fulfill several requirements to advance to the Finalist level of the competition, including information about their academic record, participation in school and community activities, demonstrated leadership abilities, employment, and honors and awards received. A Semifinalist must have an outstanding academic record throughout high school, be endorsed and recommended by a high school official, write an essay, and earn SAT or ACT scores that confirm the student's earlier performance on the qualifying test. About 95 percent of the Semifinalists are expected to attain Finalist standing, and approximately half of the Finalists will win a National Merit Scholarship, earning the Merit Scholar title.
Congratulations Panthers and we wish you the best as you continue to the Final round!