Side Menu Ends, main content for this page begins
Back to Side Menu (includes search)
Red Ribbon Week at LMMS
Posted on: October 27, 2022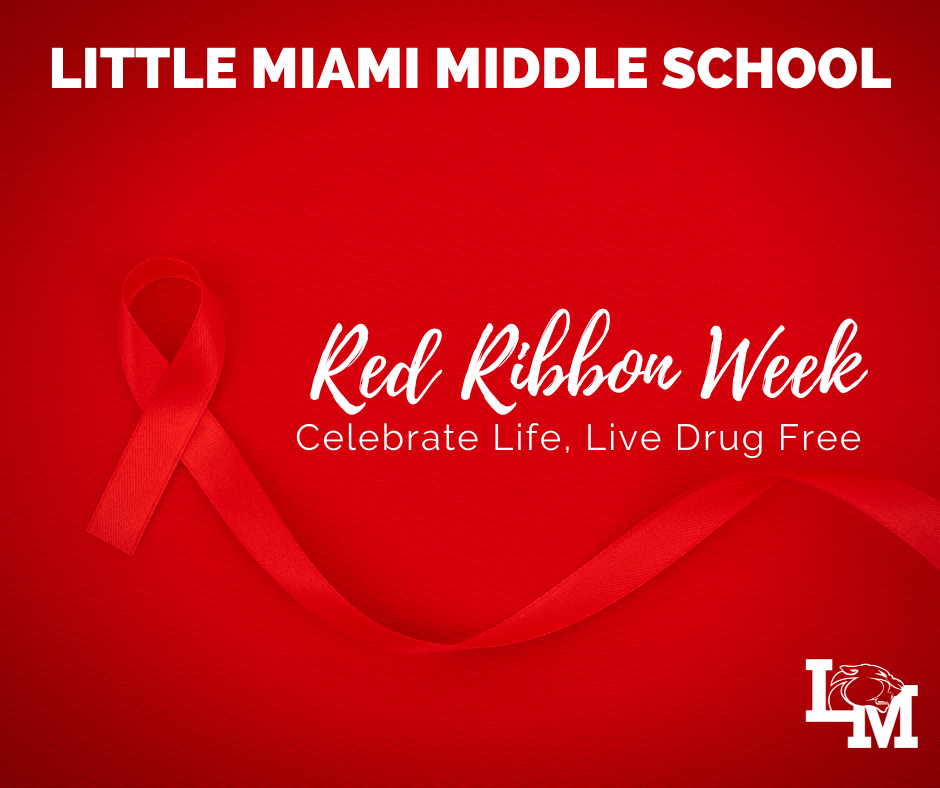 Next week, October 31st-November 4th, is Red Ribbon Week at Little Miami Middle School. This will include a spirit week competition based on participation, essay/poem contest, coloring contest, candy guess/pledge to be drug free during lunch, and a short video each day for ETEH.
Spirit Week Themes:
Monday: "Say BOO to Drugs" - Wear your Halloween costume or orange.
Tuesday: "Friends Don't Let Friends Do Drugs" - Twinning Day or match your friends.
Wednesday: "Stay Strong and Make Good Choices" - Wear Comfortable Clothes.
Thursday: "Drugs are Out of Style" - Wear clothing from past decades.
Friday: "Help Make LM Drug Free" - Wear LM Spirit Wear!
The Red Ribbon Celebration provides a time to emphasize the positive aspects of drug free lives and communities. The Celebration is also a time for renewal and rededication to the best that is in us all.
The Red Ribbon Celebration originated to honor the work and memory of Drug Enforcement Agent Enrique Camarena who was murdered by drug traffickers in 1985. The Red Ribbon Celebration has become the annual catalyst to show no tolerance for drugs in our schools, work places and communities. The red ribbon symbolizes a commitment to healthy drug free lifestyle, "no use of illegal drugs and no illegal use of legal drugs".
The Red Ribbon Celebration may come once a year, but we as Parents and Educators can make a difference every day.