Side Menu Ends, main content for this page begins
Back to Side Menu (includes search)
Superintendent Power to Retire Aug. 1
Posted on: February 28, 2023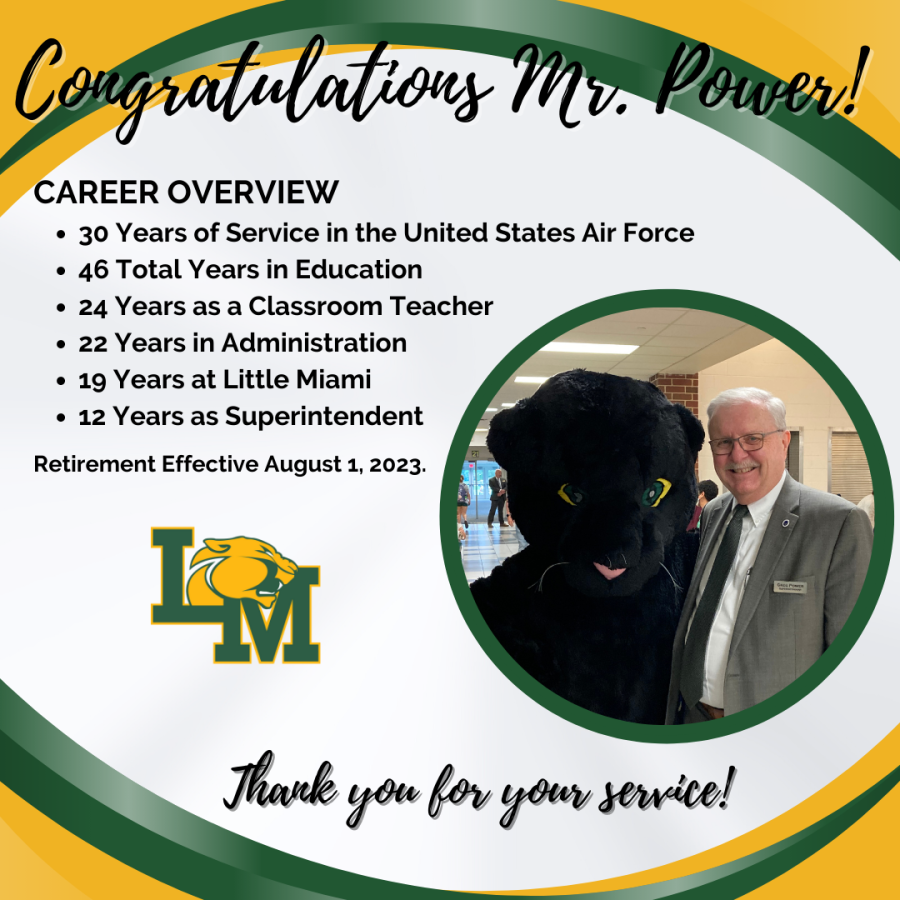 On the evening of February 28th, Superintendent Greg Power informed the Little Miami School Board of his intention to retire as Superintendent of Little Miami Local Schools effective August 1, 2023. This well-deserved retirement comes after nearly 46 years in public education, 30 years of service in the United States Air Force, and 19 proud years with Little Miami Local Schools.
Through his 12 years as Superintendent, Mr. Power has led Little Miami through some of our most challenging times, including fiscal emergency, exponential enrollment growth, and the impact of a pandemic on the traditional education system, just to name a few. Through the challenges, Mr. Power has been a champion for our students and growing community, leading impressive construction projects and paving the way for student success for years to come. We are confident that until his very last day as Superintendent, Mr. Power will continue his hard work to ensure all Panthers have the opportunities they need to succeed in and out of the classroom.
Board President Tony Niemesh says, "The Board would like to thank Mr. Power for his years of service to the Little Miami community. We also want to congratulate him and wish him well in his upcoming retirement! Mr. Power has led Little Miami through periods of financial challenges and unprecedented growth. His commitment to our students, staff, and community has been unwavering during his tenure. The Board looks forward to the task of finding the educational leader who will lead Little Miami Schools into the future.
The Little Miami Board of Education will publicize details of the Superintendent search process and how the community can participate in the weeks to come.