Side Menu Ends, main content for this page begins
Back to Side Menu (includes search)
6 LM schools earn Purple Star award
Posted on: January 15, 2020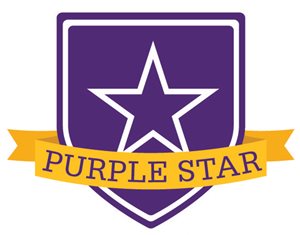 All six school buildings within the Little Miami Local School District were recently recognized for their commitment to serving students and families connected to the United States armed forces.
On Jan. 15, the Ohio Department of Education announced the 94 schools across Ohio that received the Purple Star Award for 2020. Little Miami High School, Little Miami Jr. High, Little Miami Intermediate, Salem Twp. Elementary, Hamilton-Maineville Primary and Harlan-Butlerville Primary all received the award.
Among the requirements a school must meet to receive the Purple Star Award are designating a liaison between military-connected students and their families and the school, and making certain the liaison informs teachers of the military-connected students in their classrooms and the special considerations military families and students should receive.
Little Miami's application included information about Little Miami High School's unique veterans Wall of Honor, annual elementary school observances of Veteran's Day and other military-focused activities and services around the district.
"Ohio's military members and their families embody the ideals of service, sacrifice, and community. But they can't do their jobs alone. The Purple Star Schools awarded today recognize the sacrifices military members and their loved ones make. These school communities have made a commitment to support them inside and outside the classroom," said Ohio Governor Mike DeWine. "Purple Star Schools are shining examples of Ohioans working together, encouraging one another, caring for one another and, ultimately, creating a brighter future for our state."