Side Menu Ends, main content for this page begins
Back to Side Menu (includes search)
Start with Hello Week at Salem
Posted on: February 12, 2018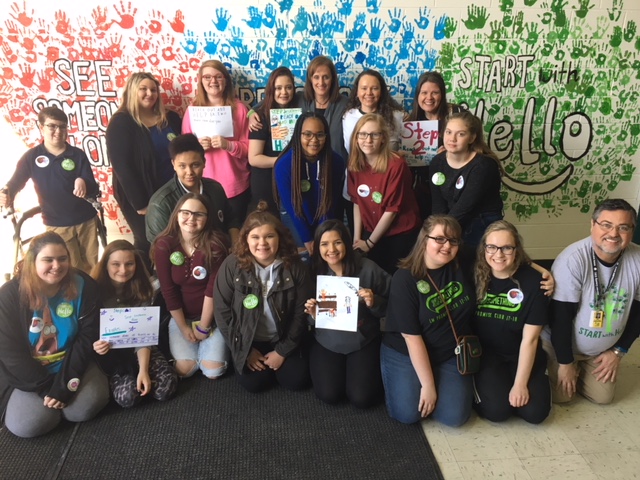 Students at Salem Twp. Elementary went the extra step to be kind to their fellow classmates as they celebrated the Sandy Hook Promise Start with Hello Week Feb. 5-9.
Start With Hello is a program to help prevent social isolation, which is the overwhelming feeling of being left out, lonely, or treated like you are invisible. Start With Hello focuses on teaching students the skills they need to reach out to and include those who may be dealing with chronic social isolation and create a culture of inclusion and connectedness within their school community.
Throughout the week, all preschool, kindergarten, third and fourth grade students watched a video each morning that was created by Salem Student Council, with the help of music teacher Kelly McKinley's technical expertise. These videos introduced the daily activities. Students participated in activities during their lunch and/or recess focused on encouraging them to reach out to each other and celebrate inclusion. Student Council helped to lead all of the activities.
Monday, Feb. 5: Getting to Know You Bingo at recess, where students filled out forms about their personal interests.
Tuesday, Feb. 6: Get to Know Me Scavenger Hunt, where students identify three things about themselves and "hunt" for students at recess who have things in common.
Thursday, Feb. 8 - Would You Rather? icebreaker game and photo booth at lunch to help make memories about Start With Hello week. Student Council made the signs used for the photo booth. The backdrop for the photos is a mural created by Art teacher, Amy Ehlers, using student handprints. High school and junior high students who are members of the Promise Club, led by counselor Carrie Brown, visited Salem on Thursday and helped lead these activites. Other special guests included Charlie Hartman, Resource Coordinator for the district, and Annie Stephens, the Sandy Hook Promise/Start with Hello Ohio Outreach Coordinator.
Friday, Feb. 9: National "No One Sits Alone" Day! All students were encouraged to sit with a classmate who looked like they could use a friend at lunch.