Side Menu Ends, main content for this page begins
Back to Side Menu (includes search)
Little Miami Health Clinic is Ready to Serve You!
Posted on: January 19, 2021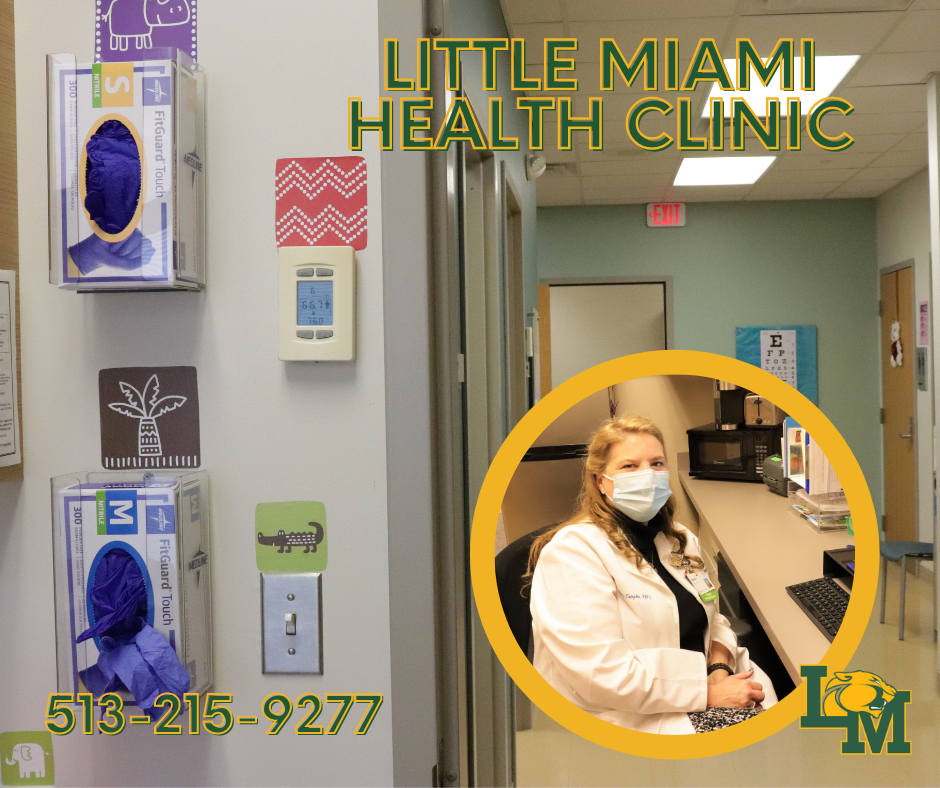 Since August 2018, the Little Miami Health Clinic has had the honor of serving the medical needs of LM students, staff and the community alike! In conjunction with medical partners at Mercy Health, Little Miami Local Schools would like to remind you that the Health Clinic is open & ready to assist your needs, especially now, amidst COVID-19 concerns. Mary Compton, FMP, and her Medical Assistant Emily Massey, are a helpful and professional team, capable of treating sickness symptoms, providing vaccinations, and even doing sports physicals.
Conveniently located at Little Miami Intermediate School, the staff at the Little Miami Health Clinic wants community members to feel comfortable calling the Clinic with questions and coming in to get assistance during this time. With the goal of providing easy access to quality health care, the Little Miami Health Clinic is open Monday-Friday, 7:30 AM – 4:30 PM. Call today to book a same-day appointment or for questions, 513-215-9277.
Why Have a Health Clinic in a School?
Maintaining a Health Clinic within a local school, not only gives students easier access to healthcare, but provides the community with a convenient and familiar place to get medical assistance in close proximity to their home. The Health Clinic serves as a great support to students and staff who may present symptoms at school, helping them get care quicker, if needed.
A school-based health center makes it possible for your student to stay in school & parents to stay at work, while also allowing the student to receive the healthcare assistance necessary. Students can visit the clinic for an appointment during the school day and return to class after it is completed. The Little Miami Health Clinic will always call the parent before and after the appointment.
What Services are Provided?
The Little Miami Health Clinic serves as a family practice office that can treat both chronic and acute illnesses and test for sickness such as strep, flu, mono, urinary tract infections (UTIs), and more! The Health Clinic also offers immunizations, blood draws, mental health evaluations, and annual wellness exams.
What if I Already Have a Primary Care Doctor?
That is great! The Little Miami Health Clinic is still available for acute visits, such as an illness if you are unable to see your primary care doctor quickly. The Little Miami Health Clinic will communicate with your primary care doctor regarding any diagnoses or treatments discussed during your visit.
School-Based Health Centers – Frequently Asked Questions