Side Menu Ends, main content for this page begins
Back to Side Menu (includes search)
Ashley Brown named next LMHS Bowling Head Coach!
Posted on: November 17, 2023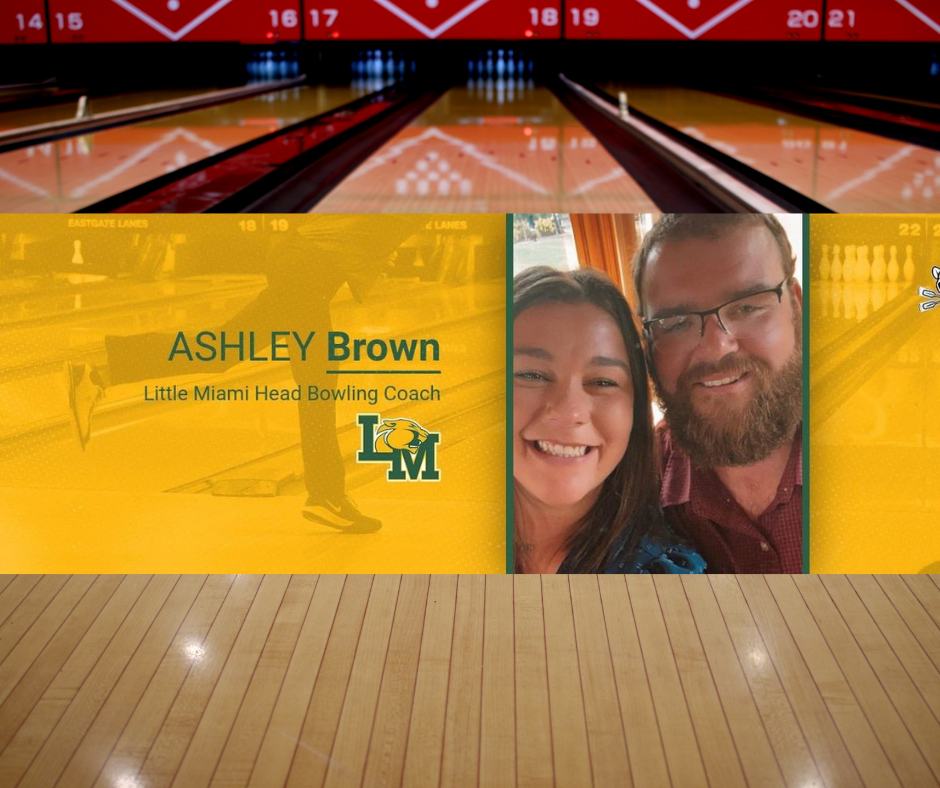 Following the conclusion of the 2022-23 bowling season, longtime Little Miami head coach Robb Carpenter stepped away from the program to assume the same role at Loveland High School. Following Coach Carpenter's departure, the LMHS administration collaborated to decide the most important factors for setting the program up for a bright future and the character traits needed in a head coach to establish that foundation for the program. After casting a net far and wide, they found that the coaching profile just two offices north of principal Harleman's Office in third-year LMHS guidance counselor Ashley Brown.

"We put a noble effort into getting this hire correct," said fourth-year LMHS Athletic Director Matt Louis. "It certainly took us some time to get this staff built the way we knew it needed to be done, and getting things accomplished correctly doesn't always have an expedient process. Ms. Brown is a dynamic leader with an incredible athletic resume, providing her the organizational and communicative skills our student-athletes deserve," Louis continued.

Coach Brown came to Little Miami High School in 2022 after interning in the same roles at Little Miami Middle School and Loveland High Schools. In 2021, she landed her first full-time professional role as a guidance counselor at Bethel-Tate High School in Bethel, Ohio.

Before entering the professional world, Coach Brown was a four-year varsity student-athlete at Northern Kentucky University in Highland Heights, Kentucky, where she competed on the Norse track and field team in the events of shot-put, discus, hammer throw, weight, and javelin. Since the 2018 season, Brown has held NKU's school record in the shot-put. For her efforts, Brown was tabbed the player-elect team captain for the NKU Lady Norse while earning Horizon League all-academic honors in indoor and outdoor track & field. In 2017, Brown was named a Horizon League second-team all-conference honoree during both the indoor and outdoor seasons as she was the silver medalist in the shot-put at both Horizon League Championship Meets. And she again logged the all-academic team accolades in 2017 and 2016, respectively. Additionally, Brown was an NKU ambassador of student-athletes whose premise was to attract and maintain sponsors at Northern Kentucky University while also earning her bachelor's degree in social work. After her time at NKU, Coach Brown enrolled across the Ohio River in Clifton at the University of Cincinnati, where she earned a master's degree in school counseling as a Bearcat.

Before college, Coach Brown was a three-sport star in basketball, softball, and track and field while earning a total of six varsity letters as a Lady Comet at Mason High School. The 2014 graduate was a two-time state qualifier in the shot-put in 2013 and 2014 and was also named first-team All-GMC and the GMC Field Athlete of the Year after both seasons. In basketball, Brown was a member of coach Rob Matula's Lady Comet squads that claimed the GMC Championship four times, the OHSAA District Championship three times and an OHSAA Regional Runner-Up twice.

Ashley is the middle sibling of three, with an older sister and a younger brother. All three Brown kids are third-generation Comets, as Coach Brown's parents and grandparents were also Comet alumni. In addition to her prolific athletic career, Ashley was also named Mason High School's prom queen as a senior.

Coach Brown lives on 10 acres in Blanchester with her significant other, Adam, and their beloved pets. They have two dogs named Colt and Doodle and two cats named Burrow and Shooter McPherson. In her free time, she loves bowling, playing softball, golfing, attending Bengals games, and going to concerts. Her favorite colors are orange and green, and her favorite food is hibachi or sushi. Her favorite moments are when the Bengals went to Super Bowl LVI in 2022 and met country music singer Luke Combs.

"School counseling is my passion and I love it," said Brown. "However, if I could choose to do anything else, I would love to be an athletic trainer for a professional sports team."

The 2023-24 OHSAA bowling season officially begins on Friday, November 3, and concludes with the State Championship March 8-9 in Columbus. Team-level organizational information is forthcoming, and the LMHS boys and girls match schedules are currently available on Littlemiamipanthers.com. Additionally, former LMHS bowling head coach Rick Lake will be returning to the program to support Brown as an assistant coach.

Lake has over 25 years of experience coaching at the high school level across multiple sports, including previous tenures with LMHS bowling and softball.