Side Menu Ends, main content for this page begins
Back to Side Menu (includes search)
Panthers Are... World Changers!
Posted on: November 11, 2022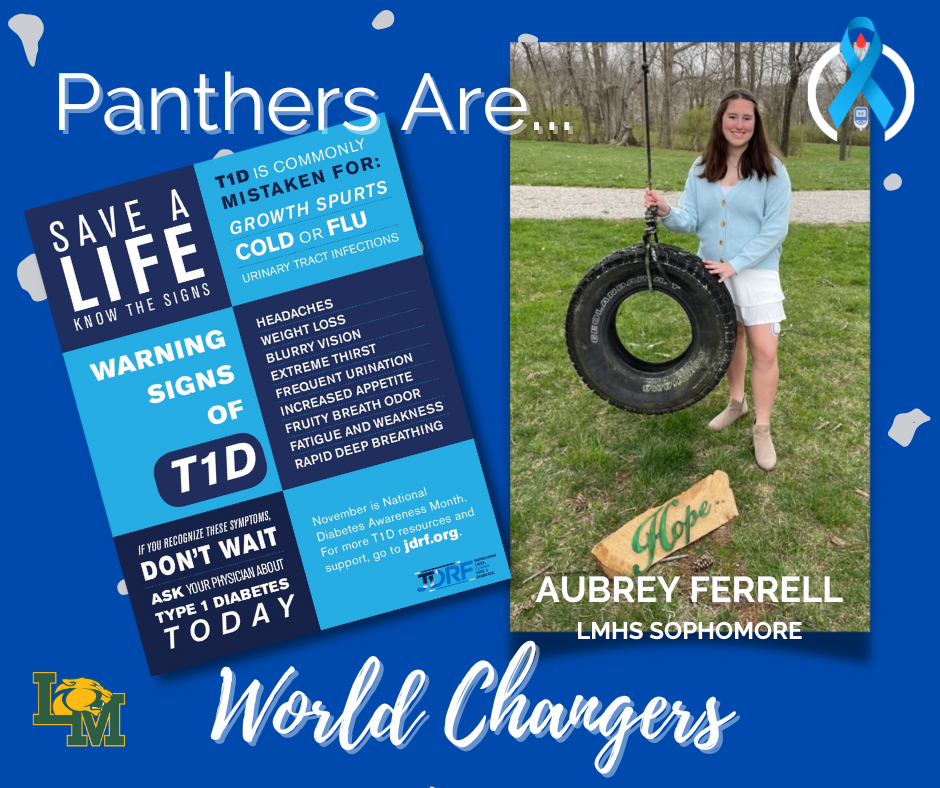 LMHS student Aubrey Ferrell is stepping up and using her diagnosis of Type One Diabetes to raise awareness about the disease & hopefully make change to improve the lives of those diagnosed moving forward.
In her role as a Youth Ambassador with the Juvenile Diabetes Research Foundation (JDRF) Aubrey is on a mission to raise money, promote awareness, and volunteer her time, with one goal in mind – curing Diabetes. Recently, Aubrey reached out to LM Communications to learn how she could use her voice to spread Diabetes awareness and resources to the community, in hopes that her story may reach even just one person, and that they may feel less alone.
Eight days before entering the fifth grade, Aubrey was diagnosed with Type One Diabetes. The summer preceding her diagnosis, Aubrey was experiencing concerning symptoms such as rapid weight loss, exhaustion, frequent bathroom breaks & thirst. When her parents sought medical care for Aubrey, she received a diagnosis of Type One Diabetes and was admitted to the hospital after learning her body was in a state of Diabetic Ketoacidosis (DKA). During her three-day stay in the hospital, Aubrey and her family received training about how to maintain safe insulin levels, including insulin shots and finger sticks.
As Aubrey got more comfortable with her new life circumstance, she started utilizing an insulin pump and a continuous glucose monitor so that she no longer needed to perform finger sticks or give herself shots. This confidence in safe insulin levels allowed Aubrey to discover a more positive outlook on her disease, and even allowed her to make friends who also have diabetes through the JDRF.
Aubrey has learned to become her own advocate and does not shy away from explaining to others why she has a device on her body or eats snacks throughout the day. What may be a hinderance to some, is only motivation for Aubrey, who is determined to make a difference through her diagnosis!
With November 14th being World Diabetes Day, Aubrey has boldly shared that while her personal journey with Type One Diabetes has not been without its challenges, she shares that she has had so many opportunities to do things she may never have gotten the opportunity to do otherwise. Aubrey also hopes to break down the stigmas surrounding Type One Diabetes, sharing that this disease can impact anyone, despite healthy habits or age. On World Diabetes Day, Aubrey encourages people to wear blue and silver in support of those with Diabetes.
Aubrey shares this poignant thought: "The theme for Diabetes Awareness month this year is "Forward," and that really describes what life with diabetes is like. You move forward every day while progress is made toward a cure, and the most important thing is your attitude because that makes all the difference."
For helpful family resources and additional information on Type One Diabetes, please visit: www.JDRF.org.