Side Menu Ends, main content for this page begins
Back to Side Menu (includes search)
Running Panthers Make School History
Posted on: October 23, 2023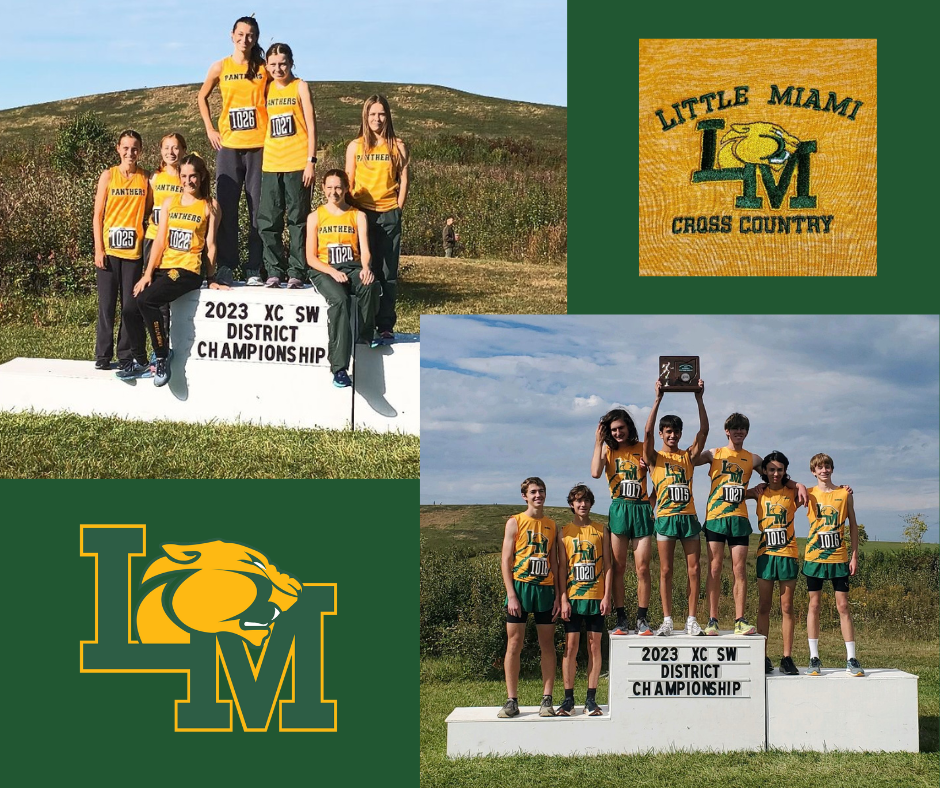 When Jim and Lynn Brant were named the next head coaches of the Little Miami's cross country and track & field programs mid-year during the 2022-23 school year, their vision for the program was quite simple. Consistently competing to win ECC championships, and winning with advancement in the OHSAA postseason. Upon taking charge, their competitive impact was almost immediate. Last spring, Lynn's Lady Panthers track and field team pivoted forward by claiming second in the ECC Championship Track & Field Meet, after finishing near the bottom of The Conference at eighth in 2022.

"When we sat down to define our team goals in August, both teams listed their No. 1 objective for the 2023 season by qualifying into Regionals," said head coach Jim Brant. "So Saturday's results in the district races were exciting to see as both teams reached those goals!"

And in the fall of 2023, the progress continues for bear fruit. On Saturday afternoon at the OHSAA District Championship Cross Country Meet held at VOA Park in Liberty Township, LMHS made history as the first time both the boys and girls teams advance in Division I to the Regional Championships next weekend in Troy.

On the boys' side of the action, Little Miami finished second of 16 schools in the meet and was named District Runners-Up behind champion St. Xavier. Leading the Little Miami effort was junior Michael Zegarski who placed seventh with a time of 16:08.43. Senior Aidan Castillo trailed closely behind Zegarski in tenth with a time of 16:22.31, and senior Sam Gausman (17th at 16:36.61) and sophomore Justin Evans (20th at 16:44.14) both cracked the Top 20, respectively. Other Panthers scoring for LMHS were freshman Ryne Reynolds (27th at 17:05.67), senior Gavin Persons (29th at 17:17.57) and senior Mikey Schuckmann (32nd at 17:19.71).

For the girls' team, the Lady Panthers finished fifth overall with a total score of 157. Mason claimed the District crown with a meet-low score of 36. Senior Mackenzie Evans was Little Miami's top overall finisher on the afternoon after she placed sixth in a time of 18:49.47, and sophomore Sophia France was also in the Top 20 at 16th in a time of 19:46.55. Other Panthers scored in a tough field were junior Stella Cornelius at 38 with a time of 20:55.93, junior Jessie Perkins at 50 (21:31.48), sophomore Ella Brown at 55 (21:41.39), senior Abigail Brown at 58 (21:46.18), and senior Maddie Armentano at 74 (23:21.51).

A complete listing of meet results can be found HERE!

Next week, the Brant's and their LMHS Panthers advance into Round 2 of the OHSAA cross country postseason held at Troy Memorial Stadium. The girls' championship is slated for 2 PM and the boys follow at 2:45 PM. Tickets are only available online at ohsaa.org/tickets.