Side Menu Ends, main content for this page begins
Back to Side Menu (includes search)
October Panther Pride Awards
Posted on: October 25, 2023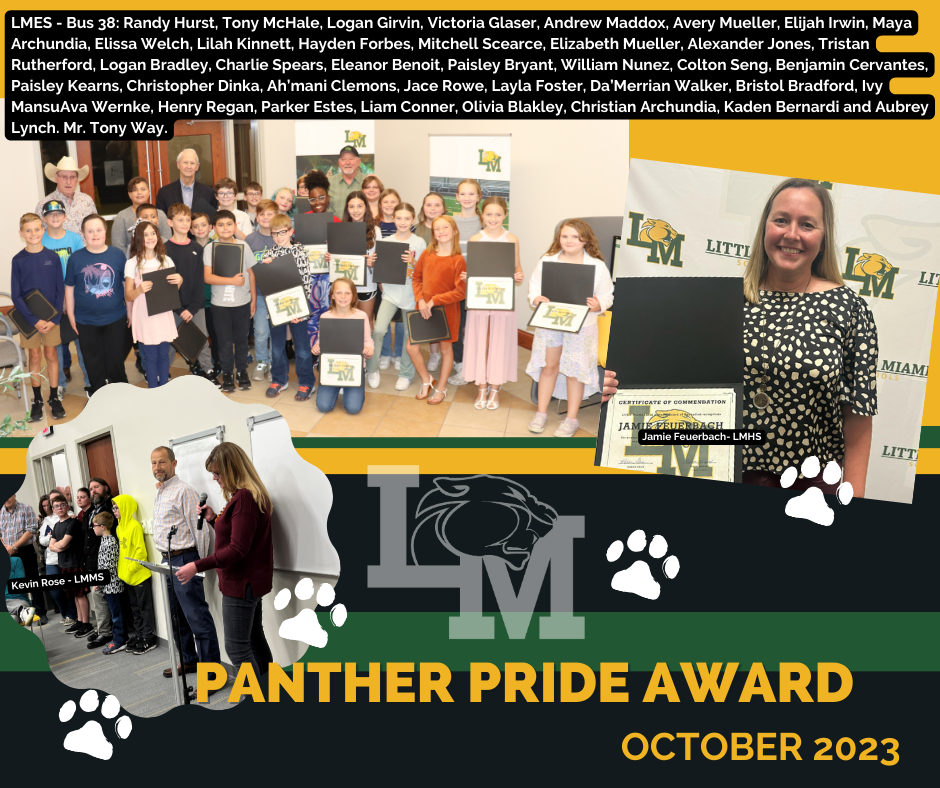 The Little Miami Local Schools Board of Education is proud to recognize individuals who exemplify what it means to put others first. They're perfect examples of what it means to be a Panther.
This month we honor 40 Panthers!
Jamie Feuerbach - Jamie is celebrated for her efforts in planning our wonderful homecoming parade. Despite the weather, the event was exceptionally well attended and everyone seemed to have a great time participating and watching along the route. This is just one of the many ways she makes the experience at the high school a great one for all students.
Kevin Rose - Kevin Rose is recognized for his continued passion for education and our students. His kindness, patience and willingness to connect with students in the classroom and crisis is difference-maker at the middle school.
Bus 38 - Randy Hurst and Tony McHale and students Logan Girvin, Victoria Glaser, Andrew Maddox, Avery Mueller, Elijah Irwin, Maya Archundia, Elissa Welch, Lilah Kinnett, Hayden Forbes, Mitchell Scearce, Elizabeth Mueller, Alexander Jones, Tristan Rutherford, Logan Bradley, Charlie Spears, Eleanor Benoit, Paisley Bryant, William Nunez, Colton Seng, Benjamin Cervantes, Paisley Kearns, Christopher Dinka, Ah'mani Clemons, Jace Rowe, Layla Foster, Da'Merrian Walker, Bristol Bradford, Ivy MansuAva Wernke, Henry Regan, Parker Estes, Liam Conner, Olivia Blakley, Christian Archundia, Kaden Bernardi and Aubrey Lynch.
Thanks to driver Randy Hurst and aide Tony McHale, the students on bus 38 made get well soon signs for a man who lives on the bus route, Tony Way. Mr. Way is battling cancer. The bus stopped at his house and all the students held their signs out the window and yelled well wishes at Mr. Way. What a gesture of kindness by bus 38! Mr. Tony Way was also in attendance at the meeting.
Please take a look at the video of the students and their message to Mr. Way.