Side Menu Ends, main content for this page begins
Back to Side Menu (includes search)
All LM Students on Remote Instruction Week of January 4
Posted on: December 16, 2020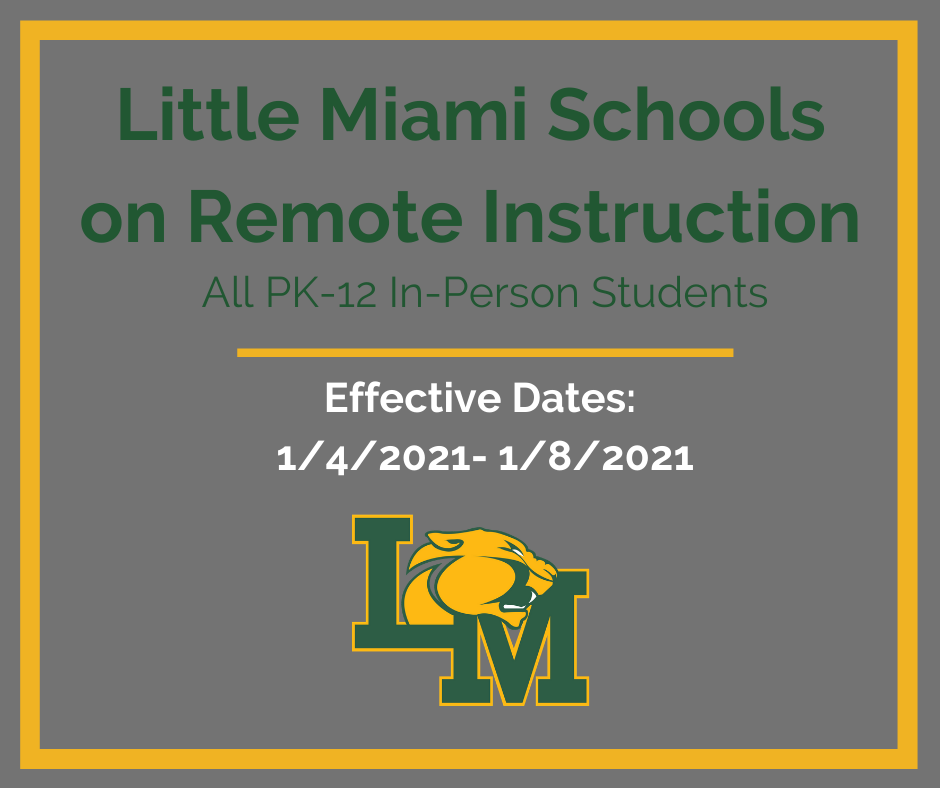 Out of an abundance of caution, all PK-12 students at Little Miami Local Schools will be on remote instruction effective Monday, January 4 through January 8, 2021. VLA students will be in remote instruction as normal. Students will return to the in-person classroom on Monday, January 11, 2021.
By keeping students remote following Winter Break, our staff will have ample opportunity to complete proper contact tracing from any COVID-19 cases reported over the break. This effort will also hopefully prevent further exposures of COVID-19 and subsequent quarantines/confirmed cases. Please look for a remote schedule to be sent home from your student's teacher or principal for the week of January 4th.
Little Miami remains firm in dedication to providing quality instruction whether in-person or remote. With your student's health and safety in mind, Little Miami will persevere in education and keep the community informed as decisions are made. Enjoy a wonderful & healthy break Panthers!
Contact Tracing & COVID-19 Questions
During Winter Break, all COVID-19 questions and test result concerns should be directed to the Warren County Health District at 513-695-1228. If your child is involved in Little Miami Athletics over the break, please direct COVID-19 questions to the coach or Little Miami Athletic Department at 513-899-5113.
All LM staff will return to work on January 4. All attendance secretaries and school nurses will be back to answer calls and questions at this time.
Meal Distribution and Pickup Information
Little Miami has been thrilled to offer free breakfast and lunch meals to ALL students through the 2020-2021 school year. These meals are nutritious and delicious- containing 10 servings of fruit, 5 cups of vegetables, 5 100% juice boxes and a half-gallon of milk! Families that would like to receive five days of meals (including 5 breakfasts and 5 lunches) can pick up meals on Monday, January 4; Tuesday, January 5; or Wednesday, January 6 at the locations & times below.
Any child 0-18 years old living in the Little Miami School District is eligible to pick up meals. Families do not have to be enrolled in the school district to receive meals. If you are unable to pick up meals at the specified times, someone else may pick up on your family's behalf. VLA Families may pick up meals on any day.
There is no sign up required to receive meals, so if interested, please arrive at one of the following pickup locations/times:
Locations and Times
Little Miami Intermediate School – Zoar Road (side by service entrance)
Monday, January 4, 2020 10:00 am – 5:30 pm
Tuesday, January 5, 2020 10:00 am – 5:30 pm
Wednesday, January 6, 2020 9:00 am – 5:30 pm
Little Miami Junior High – (front of the building)
Tuesday, January 5, 2020 10:00 am – 2:00 pm
Wednesday, January 6, 2020 9:00 am – 2:00 pm
*Please take note, you will only pick up meals one time for the entire week. If you have questions regarding meal pickup, please contact Rachel Tilford: [email protected].
Tech Support
Students returning to in-person learning from VLA should keep the district-issued devices until returning to the building. If you have already turned in a district device, you may come retrieve it from Central Office.
Do you want to limit back-and-forth in your support tickets? We do, too! Click here to submit a ticket to the Help Desk.