Side Menu Ends, main content for this page begins
Back to Side Menu (includes search)
Blog Entries - March 2023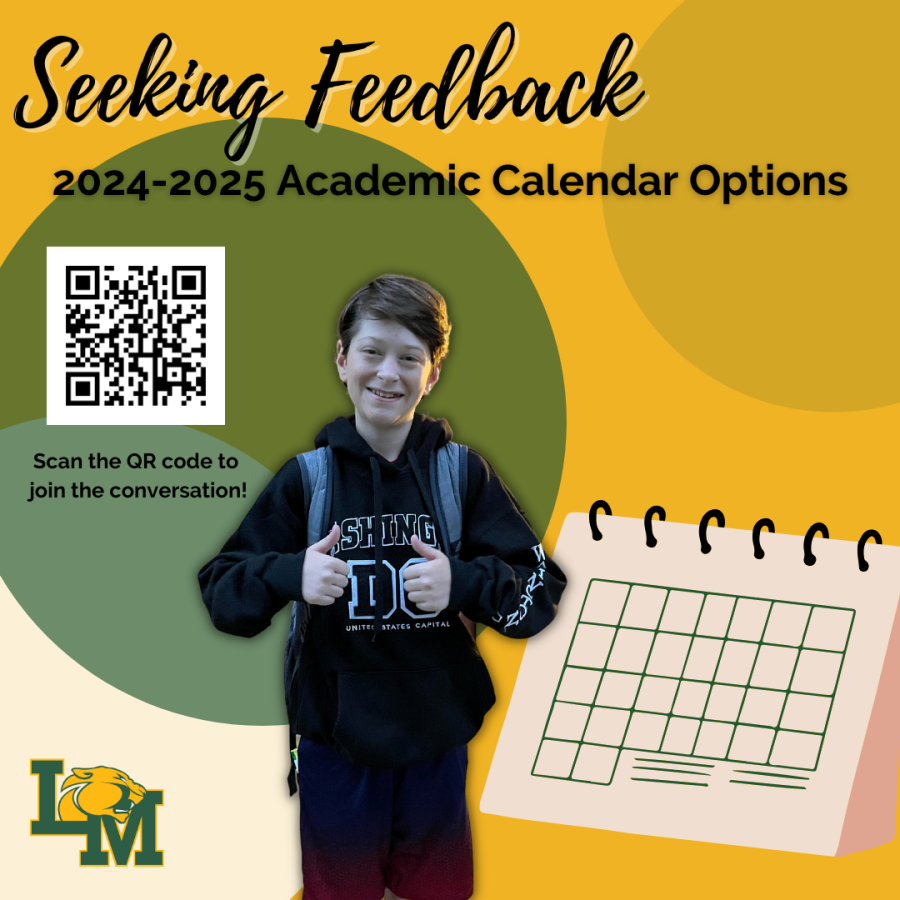 Seeking 2024-2025 Academic Calendar Feedback
Posted on: March 30, 2023
Blog Entry Synopsis Begin
We are requesting your feedback on the two proposed Academic Calendars for the 2024-2025 school year. You are able to view the calendars and share your thoughts & preference by participating in the Calendar ThoughtExchange discussion:
Blog Entry Synopsis End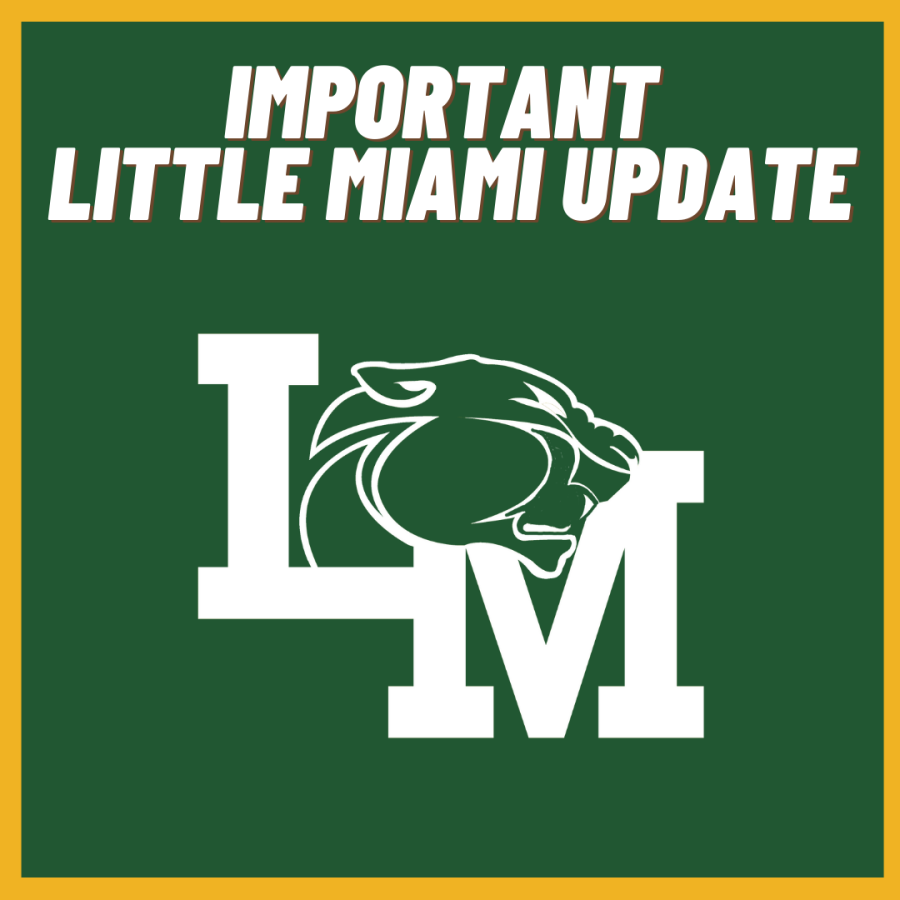 Safety Message Regarding LMMS
Posted on: March 28, 2023
Blog Entry Synopsis Begin
Today, March 28th, an anonymous, non-specific threat of violence was found written in the Girls Bathroom at Little Miami Middle School. This incident is currently under investigation by Hamilton Township Police Department and school administration.
Blog Entry Synopsis End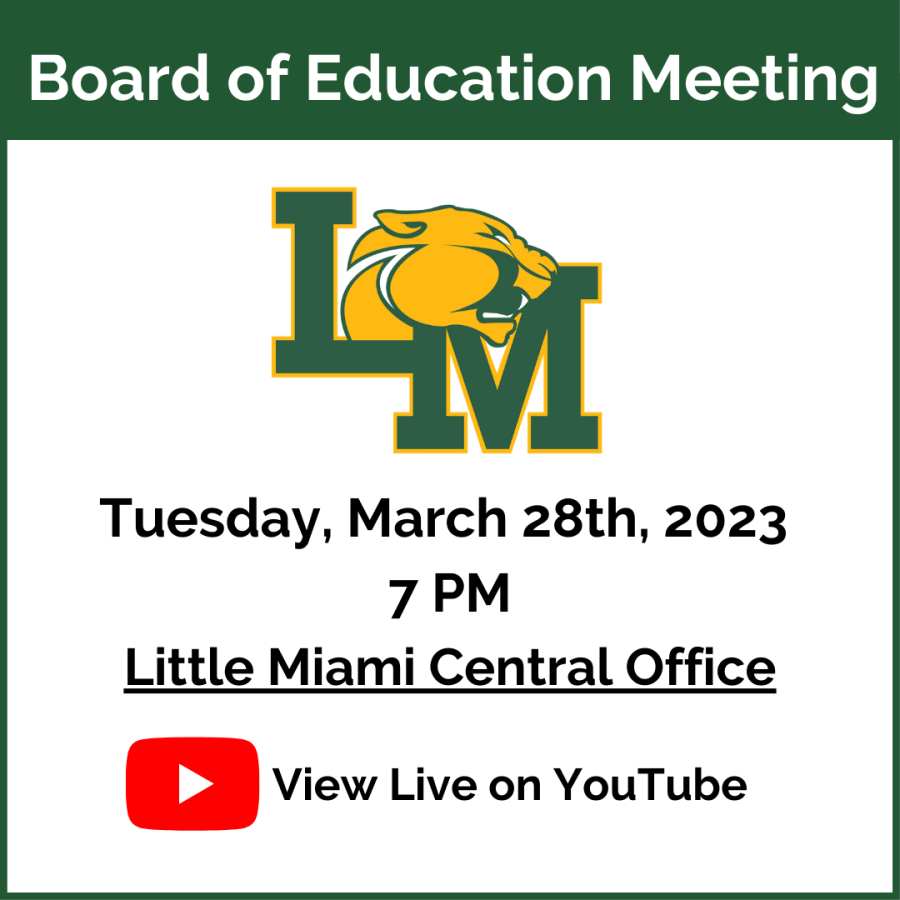 Notice of March 2023 Board Meeting
Posted on: March 26, 2023
Blog Entry Synopsis Begin
The Little Miami Local Schools Board of Education will meet on Tuesday, March 28th, 2023 at 7 PM. The meeting is open to the public and will be held in the Panther Room at Central Office. We will also be livestreaming the meeting on YouTube. Click
Blog Entry Synopsis End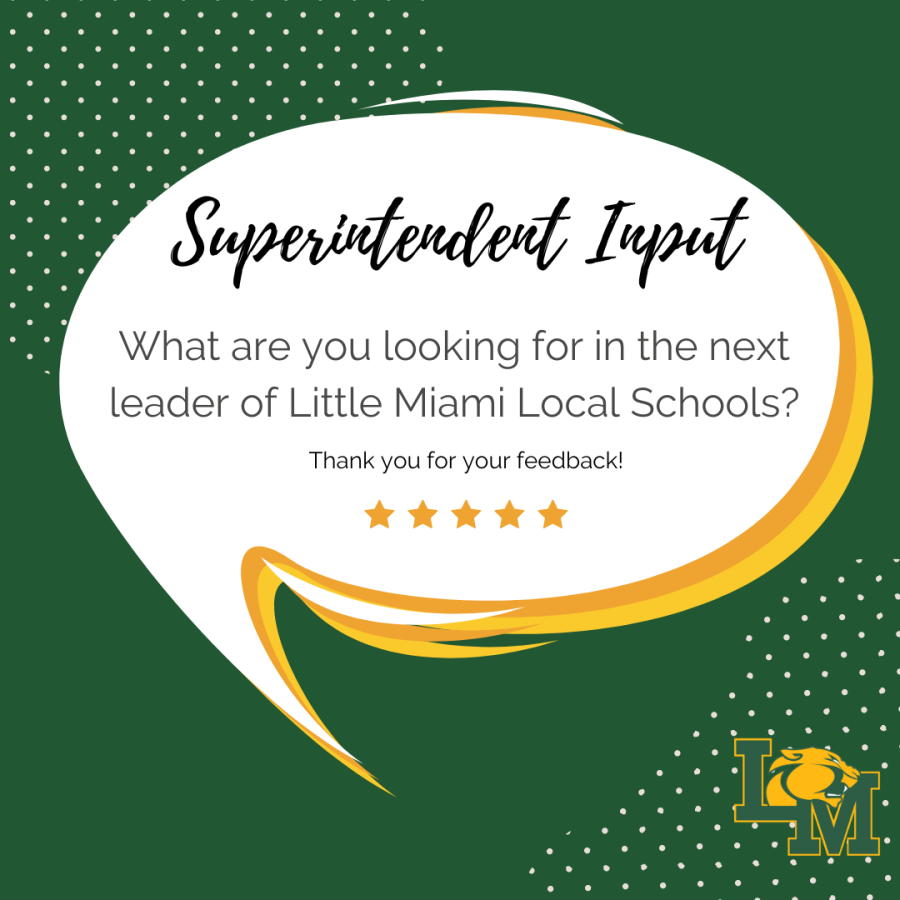 Seeking Superintendent Input
Posted on: March 21, 2023
Blog Entry Synopsis Begin
Little Miami Community– we are seeking your input on who should be the next leader of Little Miami Local Schools! Your thoughts and perspectives are all unique and valued, and we are very appreciative of any time you may take to share. Please enter your
Blog Entry Synopsis End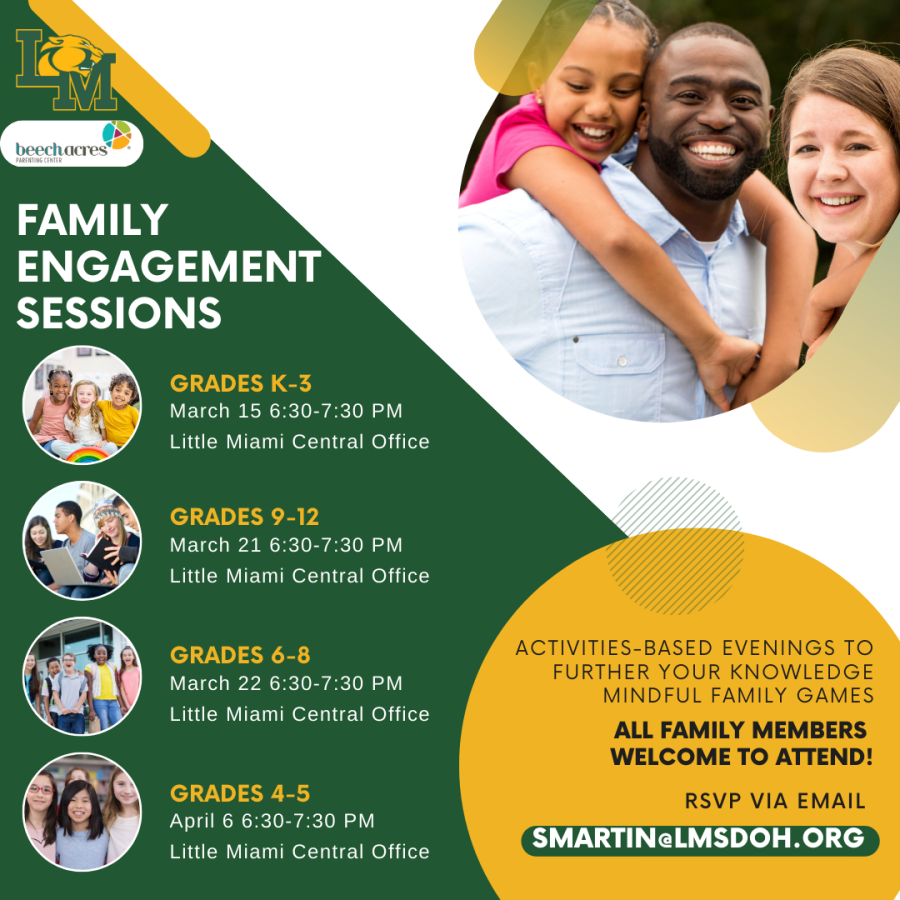 UPDATE Family Engagement Sessions - Grade Level Events
Blog Entry Synopsis Begin
Please be aware that we have rescheduled the Grades 4 & 5 Family Engagement event originally scheduled for March 21st to April 6th. We have also added an event for grades 9-12, that will be held on March 21st. We are excited to invite all of our Panther
Blog Entry Synopsis End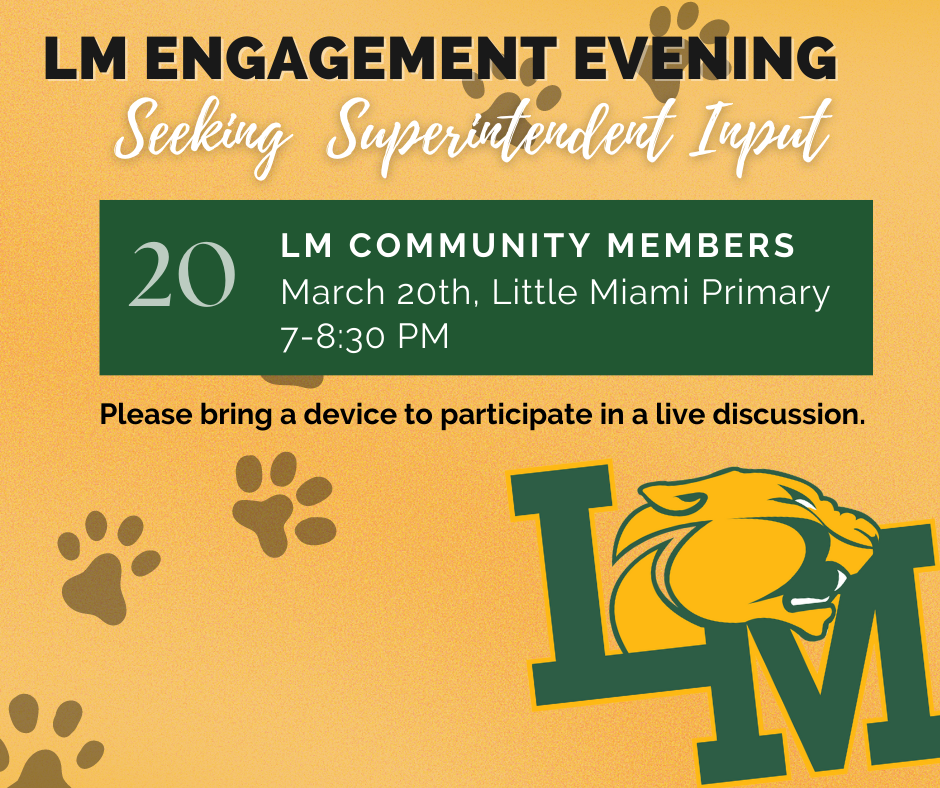 LM Engagement Evening Scheduled for Superintendent Feedback
Blog Entry Synopsis Begin
As we prepare for the search for the next Superintendent of Little Miami Local Schools, we know that it is vital to have the input of the community and key LM stakeholders as we move forward. We hope you will join us at a Little Miami Engagement Evening over
Blog Entry Synopsis End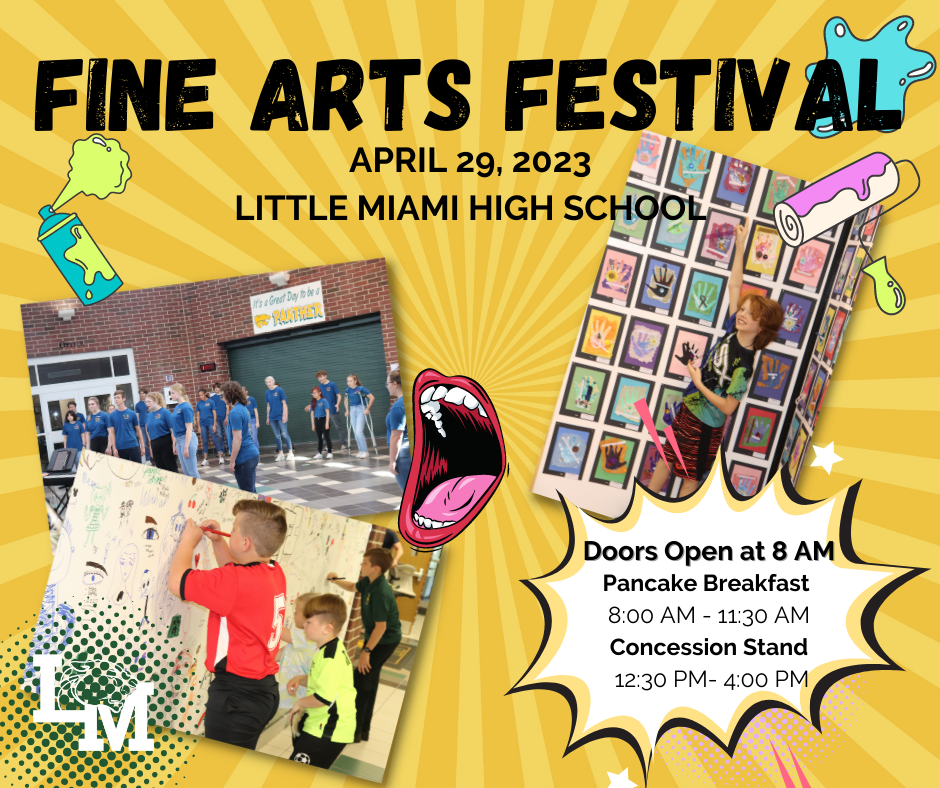 Fine Arts Festival to Be Held April 29th
Blog Entry Synopsis Begin
Save the date! A Panther community favorite is returning this Spring! The 2023 Fine Arts Festival will be held at Little Miami High School on Saturday, April 29th from 8 AM-4:00 PM. This event has something for the entire family- from fun artistic activities,
Blog Entry Synopsis End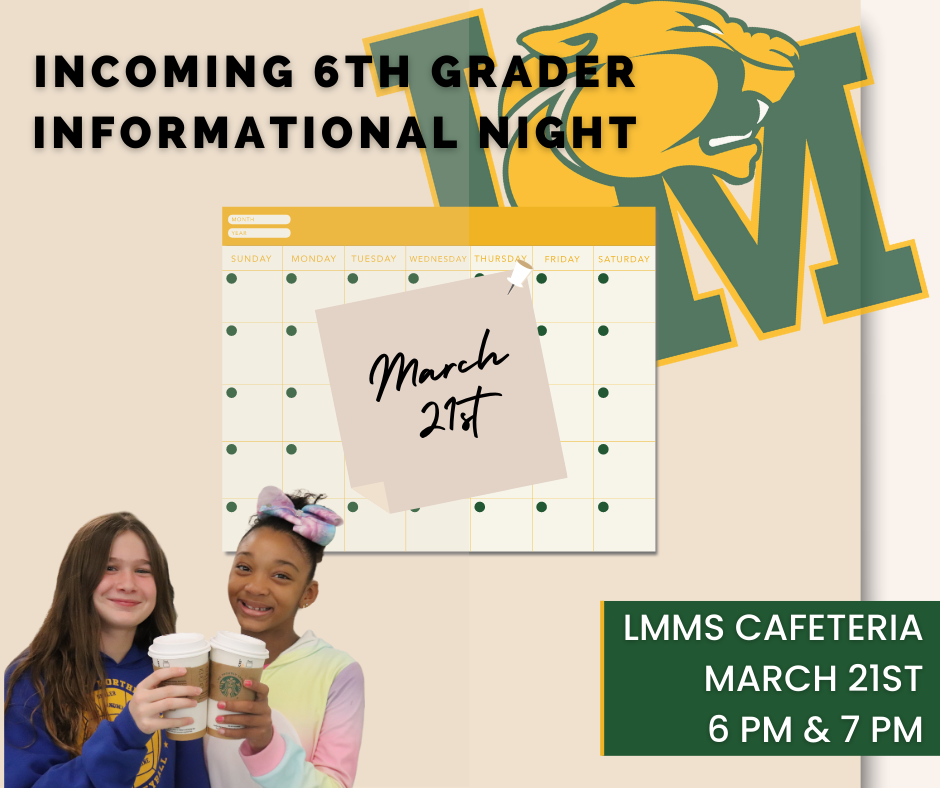 Incoming 6th Grader Informational Night
Blog Entry Synopsis Begin
Little Miami Middle School will host an Informational Night for 5th grade families regarding 6th grade in the LMMS Cafeteria on March 21st. Families are welcome to bring their student to this event. LMMS will host two informational sessions - one at
Blog Entry Synopsis End