Side Menu Ends, main content for this page begins
Back to Side Menu (includes search)
New curriculum, technology coming to LMJH
Posted on: April 30, 2019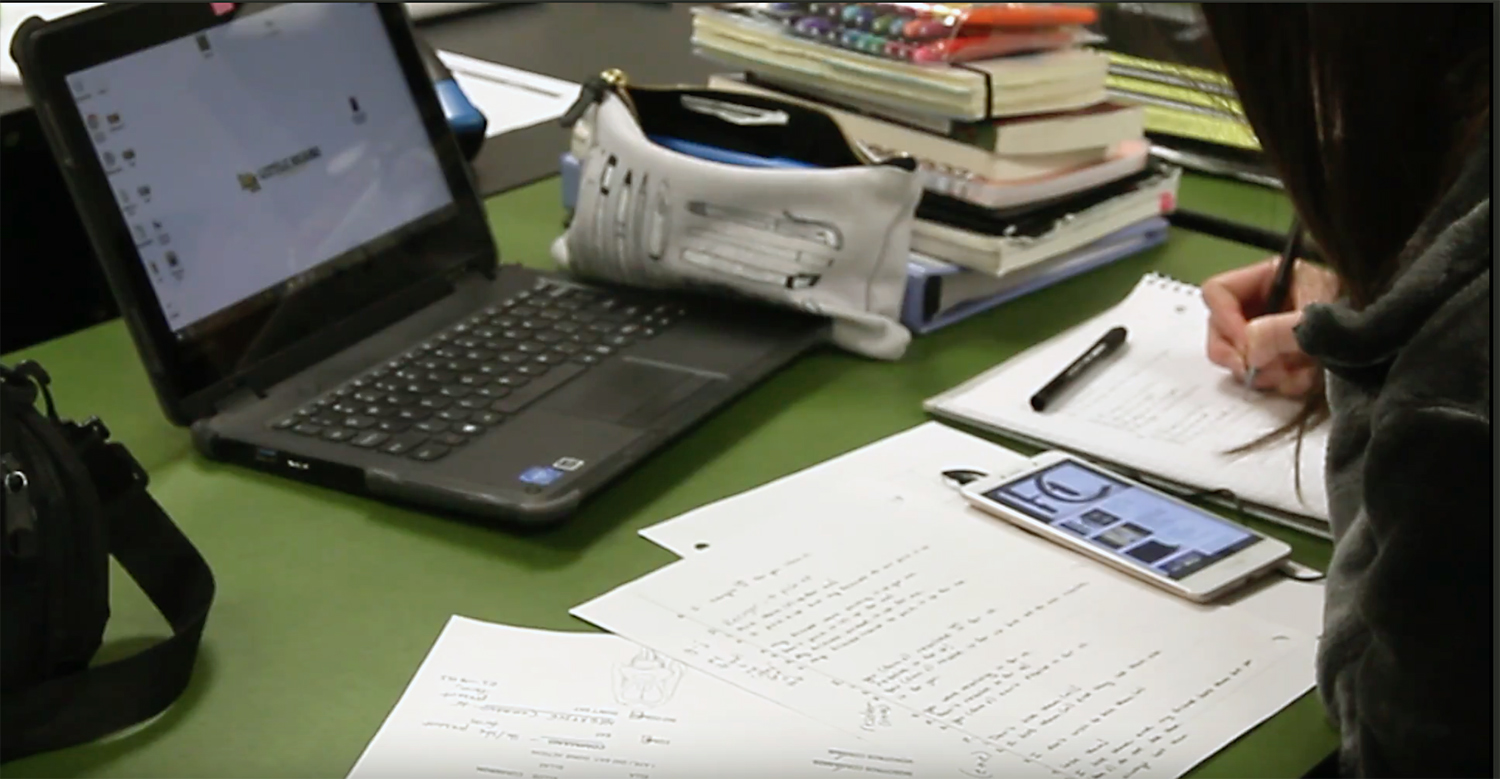 Updated classroom resources and a one-to-one technology program will be coming to Little Miami Junior High School next year after the Board of Education approved a measure at their recent meeting on April 23.
Seventh and eighth graders will join their high school counterparts in gaining increased technical skills along with updated classroom materials in science, social studies and English language arts. The Board voted 3-1 to purchase new digital resources and computer devices to create a "blended" learning environment beginning in the 2019-2020 school year.
This means that a student will have use of a traditional textbook that can be checked out of a classroom set, plus access to an e-textbook and additional resources online. Students will be able to access these online resources through a district-provided computer device.
Board member Bobbie Grice was absent from the meeting. Board President Randy Haas voted against the purchase.
The Panther Power Up one-to-one program has been in place at Little Miami High School since the 2017-18 school year. Now, new resources at the junior high will not only replace outdated products, but will also help better prepare students in the middle grades for that transition to high school and beyond, said Assistant Superintendent Regina Morgan.
"We continually strive to teach at the rigor of our standards using strategies that engage our students," she said. "Prior to the high school adoption of new resources and technology, we found that our students were lacking the tech experience they needed upon graduation.
"By moving to a blended environment, we are providing the tech experience our students need while using blended strategies to better engage our students."
Since last year, teams of junior high school teachers in the four core subjects (science, math, English language arts and social studies) were tasked with interviewing vendors, reviewing the products they offered and teaching sample lessons in their classrooms to see what best suited Little Miami students.
Teachers in this curriculum pilot voted to adopt new resources in three core areas in the coming year. The group looking at math resources chose to wait a year, as the vendors of these products were in the process of discontinuing old materials and rolling out new ones.
"Major publishers develop new resources along the adoption timelines of the big states (ie Florida, California)," Morgan said. "Last year there were multiple math products that had just been released or ready to be released. Often, these products can have errors or be glitchy when first released. Our math teachers felt they could have a better pilot and adoption if they waited a year."
The Board approved a vendor-provided classroom set of new textbooks for each teacher in three core subjects, plus a six-year digital license for each student at a cost of $256,788. The Board also approved the purchase of 838 computer devices (a Lenovo 300E or similar device) at a cost of $306,862.50.
For social studies, the review team selected McGraw Hill products. The pilot teachers were Sharon Carter, Sean Derrig, Ira Madden. Nancy Finn and Linda Mattingly.
For science, the team selected a Pearson product. The science pilot teachers were Sharon Carter, Megan Salzl and Scott Cook.
Carter said the Pearson product provided great manipulatives to fully engage students.
"The Pearson product also has STEM-style projects incorporated into each of their units," she said. "Students add new elements to their projects throughout the unit as they introduce new concepts."
For English language arts, the team selected McGraw Hill. This team was made up of Abby Hile, Lisa Dunster, Katy Wall and Bethany Beebe.
"Participating in the junior high curriculum pilot was a valuable learning experience for both students and staff," said Hile. "Through the process, all participants were able to gain insight in to the most recent and relevant curriculum to meet the needs of all learners. Ultimately, we selected the McGraw Hill product, Study Sync, because we overwhelmingly felt that it provided the rigor and technology that would help all of our students find success both in and out of the classroom."